The lockdown has definitely increased the load on streaming services and Netflix, is doing its part to capitalize on the trend. The company has said that it will offer a 1-tier upgrade to new customers for a period of one month. So, if you sign up for a new Netflix account and choose the Basic tier, you will get one month of Standard services and if you sign up for the Standard tier, then you will get the Premium service package. This is great for those who are looking to start binge-watching fantasy shows, or science fiction movies or even cash in on the superhero craze.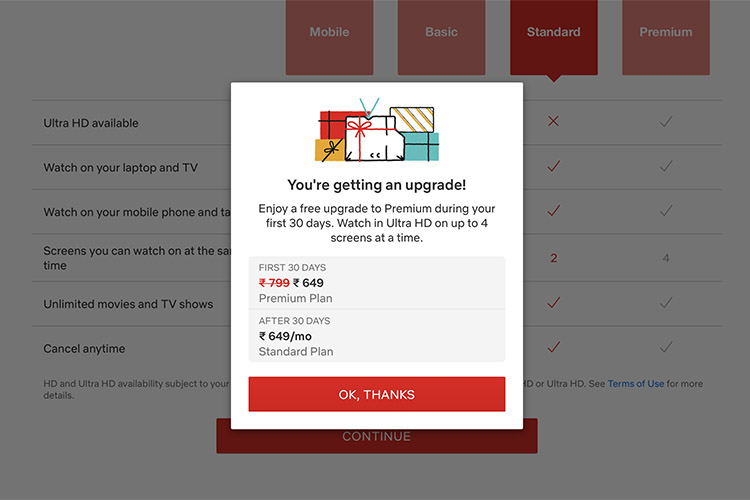 Highlights:
Netflix offering free upgrades to higher-tier plans.
Offer only available for new customers.
The upgrade is only valid for thirty days.
The offer is available to new subscribers only and is limited to the Rs. 499 Basic plan and the Rs. 649 Standard plan. Here's what this means. If you choose Basic when you're signing up for Netflix, the service will upgrade you to 'Standard' for 30 days at the same Rs. 499 price. If you choose 'Standard', you will be upgraded to 'Premium' for 30 days.
For those who don't know, Netflix's Basic plans offer standard definition video on a single screen at a time. However, the Standard plan offers HD video on up to 2 screens at a time. On the other hand, Premium offers 4K streaming on up to 4 screens at a time. Here's a screenshot comparing all the plans Netflix offers in India.
Meanwhile, Netflix has announced that it will cancel the subscription of its streaming service for those users who are inactive. The company has revealed that it will send emails and in-app notifications for canceling subscriptions to the inactive subscribers. The brand claims that it will only cancel those subscriptions, which are inactive for more than one year. The brand has revealed that it will send notifications to those subscribers who have stopped watching for more than two years. If the user doesn't confirm that they want to keep subscribing, the company will cancel their subscription.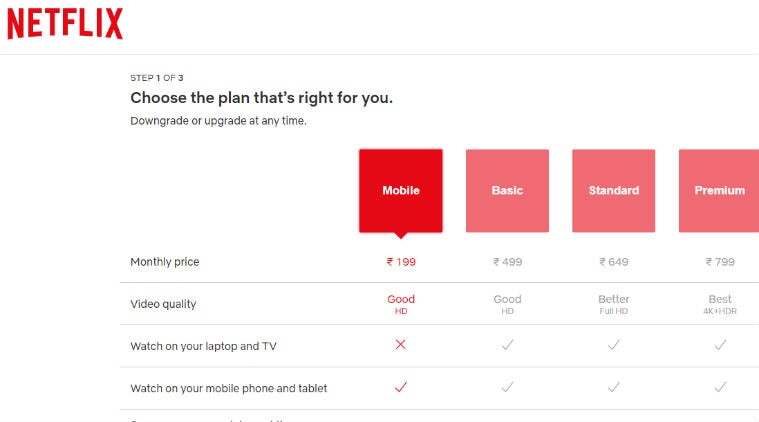 In a statement to TechReview, a Netflix spokesperson said: "We're looking at different marketing promotions in India to attract new members and give them a great Netflix experience."